July 13, 2020 – Ta'an Kwäch'än Council has joined forces with Kwanlin Dün First Nation (KDFN) to ask Yukoners and all travellers passing through the Whitehorse and surrounding area to support efforts to protect and preserve the cultural and environmental integrity of First Nation Settlement Lands.With a growing population in the Whitehorse area, KDFN and TKC Settlement Land has become a destination for more people each year. These lands are increasingly used for hiking, camping, dog walking, biking, wildlife viewing, off-road vehicle use and many other recreational pursuits. Due to the present COVID-19 regulations, TKC lands staff are recording a significant increase to the number of people utilizing Settlement Lands for recreational purposes. Because Whitehorse serves as a busy hub for Yukoners, travellers passing through to Alaska, and British Colombia residents who are now able to enter the Yukon freely, both First Nation governments are concerned of the negative impacts future use will have on these important areas.The key areas of concern for KDFN and TKC Settlement Lands include:
Unauthorized usage, vandalism and destruction of cultural sites, including traditional family cabins and camp sites.
Unauthorized structures, and the creation of trail obstructions and cutting of trees.
Unauthorized trail development and road network development.
Social media promotion of specific wildlife viewing sites.
Increased pet waste, litter and dumping.
General environmental and habitat degradation.
A general lack of awareness by the general public about First Nation land management practices.
Ta'an Kwäch'än Council is asking members of the public to refrain from using Settlement Land sites in order to allow the land, water, and wildlife populations time to heal. If visitors are uncertain if they are using Settlement Land or have questions about land management practises, we are invited them to contact TKC or consult Settlement Lands maps.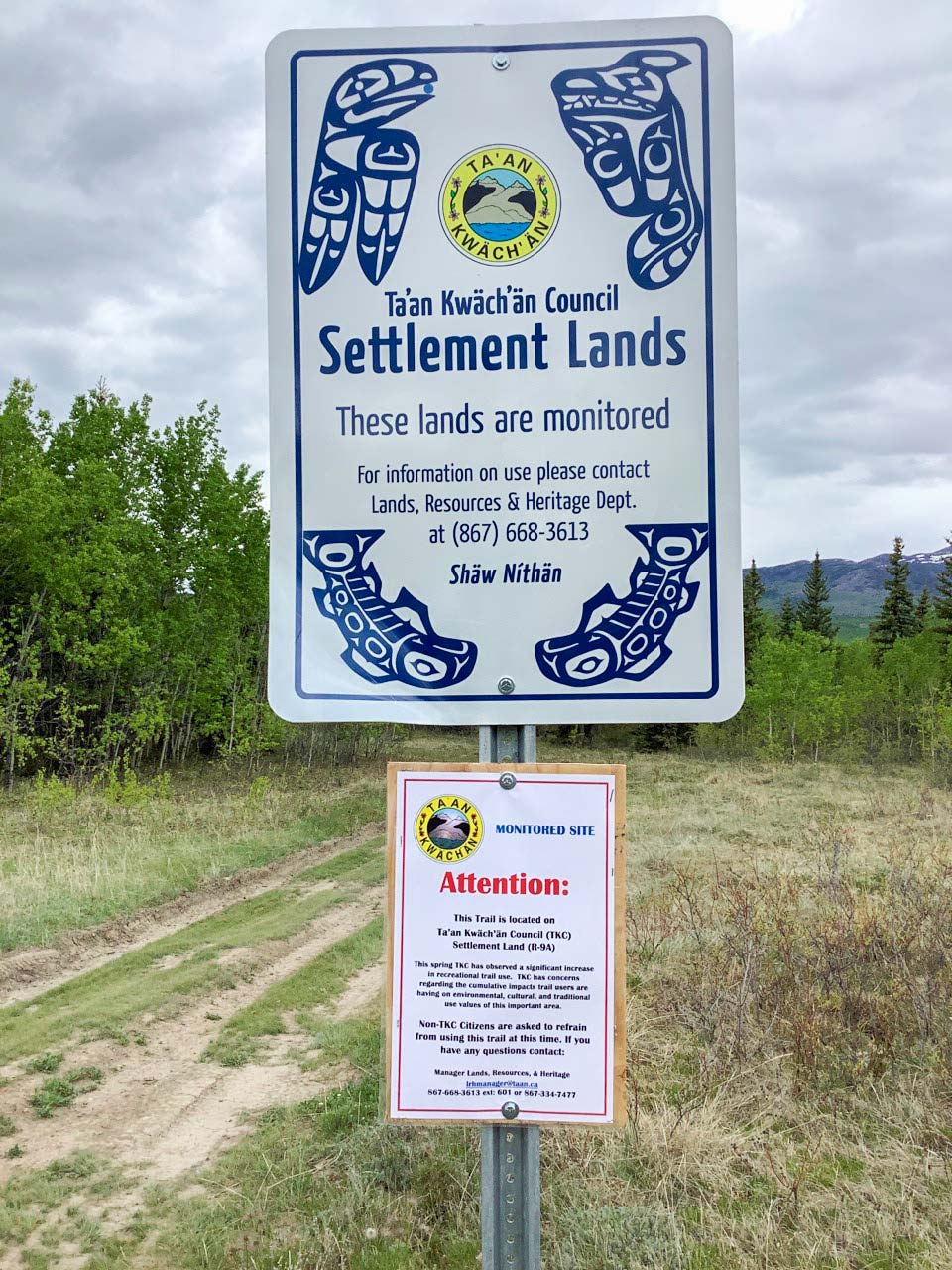 OUR STAFF

Scott Paszkiewicz
Manager Lands Resources & Heritage
601

lrhmanager@taan.ca

Dawn Hansen
Natural Resources Technician
602

resources

@taan.ca

Kristina Beckmann
Fish and Wildlife Program Coordinator
603

fishandwildlife@taan.ca

Natalie Leclerc
Land Use Planning Coordinator
604

nleclerc@taan.ca

Testloa Smith
Lands Steward
605

tsmith@taan.ca

Hannah Gray
GIS Analyst
606

gisanalyst@taan.ca

Anne-Marie Miller
Heritage Technician
608

heritage@taan.ca

Nick Howitt
Environmental Assessment Technician
610

environmentaltech@taan.ca

Andre Eckert-Maret
Wildlife Monitor
611

aeckertmaret@taan.ca

Shawna Tizya
Wildlife Monitor
611

monitor1@taan.ca

Roberta Behn
Heritage Programs Coordinator
403

rbehn@taan.ca