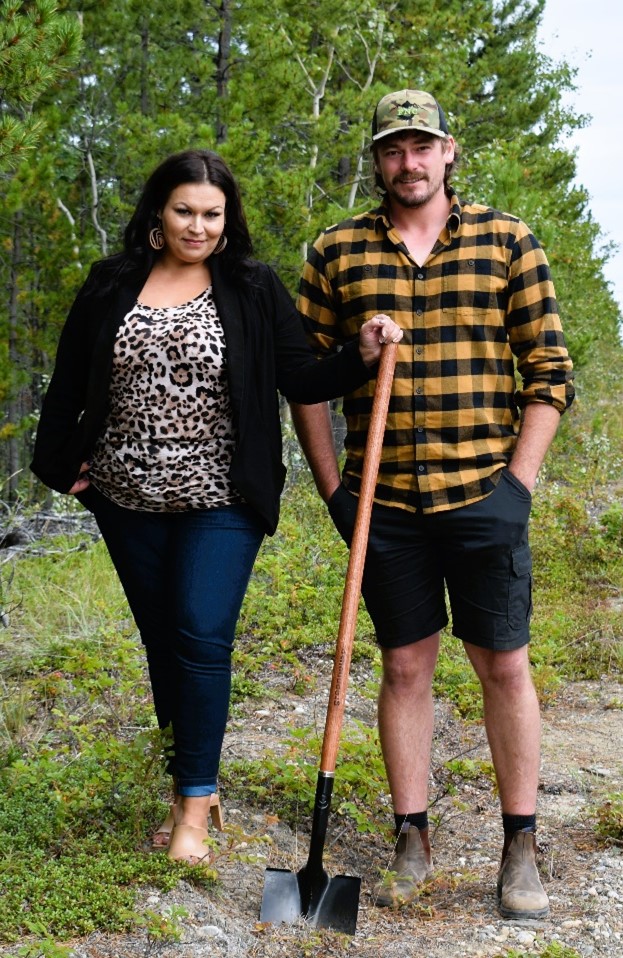 August 25, 2022-TKC's Housing Department has started preparation work to place nine mobile homes on TKC Settlement Land at the TKC Village, just past Lot 120, adjacent to the power line road. Surveying has begun on the site which will result in nine lots (approximately 165-foot by 100 foot each) being development for the placement of the homes. On site pad preparations, including brush shrubbing, and road expansion is also under way. This work was allocated through a multi-bid process and has resulted in the contracting of several TKC Citizens. A tendering process will also take place for the plumbing, and electrical. The allocation process for the homes, expected to be ready for occupancy by the end of 2022, will be administered by a third-party contractor who, through a comprehensive application process will match those most in need with units first. These homes will be established as a temporary solution and are not meant as a permanent housing placement. This housing initiative is one of three developments TKC is currently undertaking to ensure Citizens have access to safe, affordable housing. Other developments TKC is busy undertaking include the development of single-family housing lots along Birch Road in Porter Creek and a development of townhouse units in Whistle Bend. (A map of these developments is available at www.taan.ca) Citizens should watch our website for more information. Contact Matthew Dickson, TKC Housing Manager at (867) 668-3613 ext. 501 for more details.
New Housing Initiatives Announced
Ta'an Kwäch'än Council (TKC) is pleased to announce plans for the development of two new housing initiatives on Self-Governing Settlement Lands in Whitehorse to address the housing crisis facing its community. Development will transform two parcels of TKC Settlement Lands within the City of Whitehorse into two small subdivisions. The site at Whistle Bend (C-9B) will involve developing a portion of the 20-hectare parcel to create 24 townhomes. A second site, located on Birch Road in Porter Creek (C-16B) will see subdivision development for 24 lots to accommodate future single-family homes. Home occupancy is expected to take place by 2024.
During the 2020 General Assembly, TKC Citizens passed a resolution declaring a state of emergency for housing, acknowledging the lack of reasonably priced housing for Ta'an Citizens as the government's top priority. This is the first major housing initiative TKC has been involved in aside from River Bend which is a joint affordable housing initiative between the Yukon Government and TKC's business arm, Da Daghay Development Corporation.
Chief Amanda Leas was elected in October 2021 and made housing her top priority as a candidate. By completing this new initiative, she is confident the majority of those in need of housing will be able to secure access to safe, affordable housing on TKC's traditional territory.
"This is a huge step for us. For years we have known the need is there and I am very encouraged we are moving forward. Our families come in many different shapes and sizes, so we are hoping to ensure everyone in need will benefit from these new initiatives. Like the rest of Canada, we have a growing number of Elders and Citizens reaching retirement age. We also have young growing families and single Citizens in need. All those dynamics will be considered as we design and develop these neighbourhoods. It is an extremely exciting time."
-Chief Amanda Leas, Ta'an Kwäch'än Council
Along with site preparations, plans and permits, TKC is also finalizing policies that will guide the allocation process for these new housing units. This will include creating a housing database and registry system. This project will provide job opportunities to both TKC and other First Nation contractors through formal tendering processes and will provide training for TKC Citizens. Funding for these housing initiatives will be made through dollars allocated through TKC's Self-Government Agreement, as well as federal, territorial, and municipal housing programs.
TKC is the second-largest private landowner in the City of Whitehorse. Under its land claim, signed in 2002, the traditional territory covers approximately 12,079 square kilometres of land in the Yukon, of which 796 km are designated as Settlement Lands.